T-Lok Rubber Safety Barrier
A new generation of safety barriers made from tyre-derived materials – offering enhanced safety benefits, a longer life span and cost-effective solutions for a variety of industries.
Category
Public Safety
The Innovators
The end result
A world first for Australia.
An innovative use of Tyre Derived Material (TDM) that will enhance public safety and support the recovery of end-of-life tyres in Australia – 1 kilometre of T-Lok barriers uses 12 tonnes of recycled rubber which is the equivalent of 2,000 passenger tyres, and it is projected the product could use up to 60,000 (360 tonnes) passenger tyres per year.
The inclusion of rubber crumb derived from tyres enhances the flexibility and durability of the concrete barrier resulting in better energy absorption, reduced risk to vehicle occupants and increased barrier lifespan.
Timeline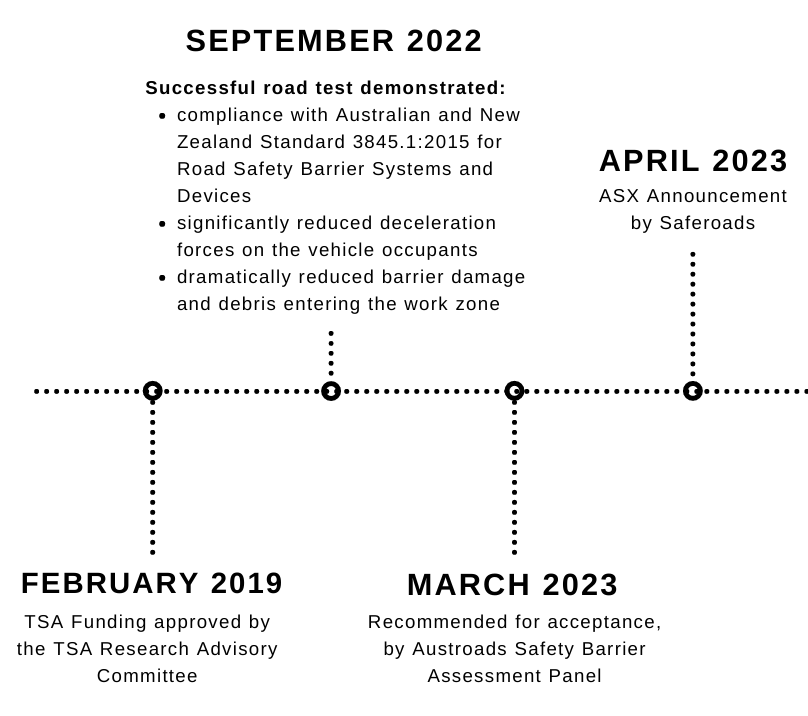 TSA Fund Investment
$180,000 and team support for product design, testing, building and commercialisation.
Contribution to Australia's Circular Tyre Economy
Tyre Derived Material (TDM) Product Design
TDM Product Manufacturing
TDM End Market Development
Markets that will benefit from this
Australian Public
Construction
Engineering
Government / Civic Works
Manufacturing
Mining
Outdoor Event Management
Waste Recyclers and Processors
Related