The Tyre Stewardship Australia Best Practice Guidelines on Tyre Storage and Fire and Emergency Preparedness provide tyre collectors and recyclers with a roadmap to comply with the regulations and requirements relevant to tyre storage. They are also intended to aid best practice methods for storage and fire and emergency preparation.
The guidelines present the Essential Requirements deemed to comply with regulations across each Australian jurisdiction. However, implementation of these Essential Requirements should be undertaken with reference to the regulations and guidelines applicable to your state or territory. These guidelines also present best practice methods to help businesses reduce risks and be best prepared for fire/emergencies, as far as practicable.
These guidelines focus mainly on the needs of tyre collectors and recyclers, as such businesses tend to store greater quantities of tyres and hence carry more risk; however, the guidelines may be used by any business that stores a significant number of tyres on a temporary basis.
These guidelines will help you to:
Understand Essential Requirements for complying with State regulations relevant to tyre storage.
Understand environmental and OHS risks associated with tyre storage and best practice mitigation measures.
Understand how to plan, design and operate facilities with best practice in tyre storage, fire and emergency preparation.
The guidelines can be viewed and downloaded here.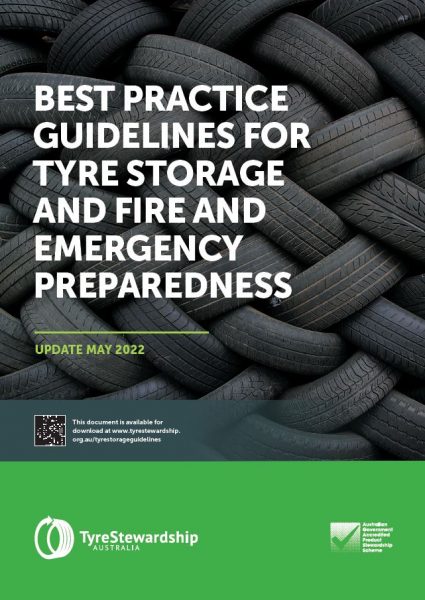 In addition to the full guidelines, see individual State and Territory summaries below covering key regulatory requirements for the storage of waste tyres in each jurisdiction: